The Temptations & The Four Tops
The Temptations & The Four Tops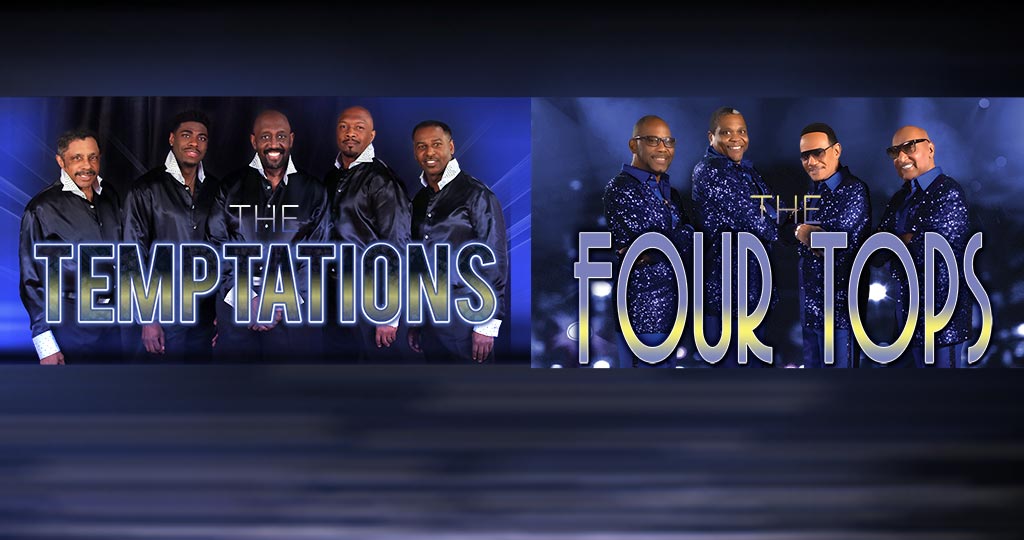 October
6
, 2023
The Temptations & The Four Tops
Date

October

6

, 2023

Event Starts

7:30 PM

Venue

Fabulous Fox Theatre

On Sale

Buy Tickets Now

Tickets

$55 - $150
The Temptations & The Four Tops
Motown legends and Rock and Roll Hall of Famers, The Temptations AND The Four Tops visit The Fabulous Fox for one night only, Friday, October 6th! Don't miss an incredible night filled with hit songs that are part of the soundtrack of our lives! Tickets now on sale at MetroTix.com.
The Temptations, often referred to as "American Music Royalty," are world-renowned superstars of entertainment, revered for their phenomenal catalog of music and prolific career. Named the "#1 R&B/Hip Hop Artists of All Time" and one of the "125 Greatest of All Time Artists" by Billboard magazine, as well as one of the "100 Greatest Artists of All Time" by Rolling Stone Magazine, the group is truly a beloved national treasure.
The Temptations, throughout the group's evolution, have produced 53 Billboard Hot 100 Hit singles, including four that became #1 Pop singles: "My Girl," "I Can't Get Next to You," "Just My Imagination," and "Papa Was a Rollin' Stone." Additionally, they released 43 Top 10 R&B hit singles, 14 of which were #1 R&B hits, including timeless classics such as "Ain't Too Proud to Beg," "Beauty Is Only Skin Deep," "I Wish It Would Rain," and songs influenced by their funk/psychedelic soul sound including "Happy People," and "Shakey Ground." The group also has 16 #1 R&B Albums. The Temptations' music, then and now, continues to raise the spirit of the country and uplift a nation searching for common bonds and glimmers of hope and humanity.
The Four Tops, originally called the Four Aims, are an American vocal quartet from Detroit who helped to define the city's Motown sound of the 1960s. Their songs, soulful and bittersweet, were across-the-board successes. Those hits include "Baby I Need Your Loving" "I Can't Help Myself (Sugar Pie, Honey Bunch)", "It's The Same Old Song", "Reach Out I'll Be There," "Standing In The Shadows Of Love", "Bernadette", "Ain't No Woman (Like The One I've Got)", "When She Was My Girl" and their final solo Top 40 hit, "Indestructible," which was the theme of the 1988 Summer Olympics.
In 1990, with 24 Top 40 pop hits to their credit, the Four Tops were inducted into the Rock & Roll Hall Of Fame. Though they would no longer have hits on record, the group continued to be a hit in concert, touring incessantly, a towering testament to the enduring legacy of the Motown Sound they helped shape and define.
Buy Tickets
Fri.
October
6
, 2023
/ 7:30 PM
Everyone must have a ticket, regardless of age.
Prices are subject to change.
DELIVERY DELAY: Tickets will be delivered 1-2 weeks after the general public on sale. New ticket orders will be delivered every 3-6 business days thereafter.
| TICKET TYPE | TICKET PRICE | SERVICE CHARGE | TOTAL PER TICKET |
| --- | --- | --- | --- |
| Orchestra Pit Row 1 | $150.00 | $27.00 | $177.00 |
| Orchestra Pit | $125.00 | $23.00 | $148.00 |
| Premium Orchestra Row A | $125.00 | $23.00 | $148.00 |
| Premium Orchestra | $95.00 | $17.00 | $112.00 |
| Premium Mezzanine | $95.00 | $17.00 | $112.00 |
| Front Orchestra | $85.00 | $16.00 | $101.00 |
| Mezzanine | $85.00 | $16.00 | $101.00 |
| Mid Orchestra 1 | $75.00 | $14.00 | $89.00 |
| Lower Balcony Front | $75.00 | $14.00 | $89.00 |
| Mid Orchestra 2 | $65.00 | $12.00 | $77.00 |
| Lower Balcony Rear | $65.00 | $12.00 | $77.00 |
| Rear/Side Orchestra | $65.00 | $12.00 | $77.00 |
| Middle Balcony | $65.00 | $12.00 | $77.00 |
| Orchestra Corners | $55.00 | $10.00 | $65.00 |
| Upper Balcony | $55.00 | $10.00 | $65.00 |
METROTIX SALES END: 15 minutes after showtime.
Fabulous Fox Theatre
527 North Grand Boulevard, Saint Louis, Missouri 63103
The Fox Theatre is pleased to offer seating and other accommodations for our patrons with special needs. All special accommodations can be requested through MetroTix at 314-534-1111 or 800-293-5949, 9am to 9pm. Deaf or hard of hearing guests may also use the Relay Missouri service by calling 800-735-2966 (TTY) or 800-735-2466.
Wheelchair seating and companion seats are available for all performances at the Fox for purchase at the Fox Box Office, by phone and at metrotix.com.
The Fox Theatre offers performances interpreted for the deaf and hard of hearing by Communicate Plus as well as audio-description services for the visually-impaired. For a schedule of these performances, click here.
A limited number of infrared assistive hearing head sets for the hearing impaired are available at no charge for all performances at Guest Services & Gifts in the main lobby.
A number of accessible parking spaces are located on the north side the Fox Theatre, near the accessible entrance, on the south side of Washington, between Grand Blvd. and Spring Ave. Patrons with special needs may also be dropped off at the accessible entrance.
The front entrance and lobby are accessible and the elevator to other floors is located on the north side of the lobby. The accessible entrance is located on the north side of the building.